Essentially, the main reason small to medium-sized Businesses (SMBs) outsources their
IT department
needs is because they encounter fewer problems. This is just the surface and a refined scenario of a complicated issue. Also, to settle on an adequate business choice in regards to outsourcing your company's IT department or not, you have to support it with information. An IT division is composed of a complicated area of hardware, programs, and networks of computers that enables you to execute critical actions for your business and operations like bookkeeping and monetary processes, customer relationship management (CRM), email, and making documents. The progress of your business relies upon it having the capacity to utilise these things dependably and productively. For instance, it's essential for companies to send and receive emails to speak with customers, workers, merchants and partners – to deliver the item and ordered services. To what extent can your business work without this critical service? Furthermore, you should have the capacity to get to the client's data and financial information to maintain your company. Also to ensure these procedures, numerous back-end works should be performed like security, protection against computer viruses, backup and recovery of essential data, and server checking. With this vast and vital operation, is it possible for an SMB to perform the duties of an IT department by themselves? Not without a huge commitment and investment hiring professional IT's, the framework, time and money. Preparing IT staff, the maintenance for IT equipment and staying up with the latest are overwhelming for a lot of SMBs. Here are the top seven advantages of outsourcing your IT department to an experienced and credible Australian outsourcing company.
1. Reduce and Control Costs
If you outsource your company's IT department, you can reduce the costs by paying a for a monthly plan so that the prices won't vary every month. You are additionally using their scale, lower cost of infrastructures, and professionals and experts. It could be costly if you have your own IT office to maintain. Qualified IT experts must keep up their competence in such level and also sufficiently paid. Also, cloud-based services where you can lease pieces of equipment like servers, and even have them stored offsite and checked on a regular basis which significantly brings down the cost of investment for your IT department. All equipment has a lifespan or expiration when degenerates and stops working. Cloud-based services enable you to manage and foresee prices for these kinds of scenarios.
2. Concentrate on Your Business
Your company could be a law, bookkeeping, or construction firm, and you are most competent in these areas and not IT. Each business has limited resources; outsourcing will give you a chance to divert them from non-basic operations into functions that provide a more extended benefit. By permitting a qualified bpo company to manage your IT department, this allows you and your assets to focus on the regions that makes you grow and successful.
3. Most Current Technology Access
Certified outsourced IT centres deliver world-class learning and experience to your company on a regular basis. You will get access to new technologies and information that you might not have thought about before, and also systems and equipment that you don't have yet. These devices consists of tested operations and procedures; documentation; and more organised strategies.
4. Monitoring of Your IT Environment
Regardless of whether you do have proficient and expert IT professionals employed, with an insufficient number of staff, it's not be sensible to have them check your data and software around the clock. Qualified IT experts have the instruments and experts to do this, and can anticipate major issues with your IT condition and can settle them before downtime happens. Also, they would have the capacity to prompt you on critical future improvements to prevent downtimes in the future.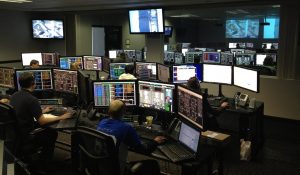 5. Limit Risk
IT services will maintain your everyday IT operations effectively and efficiently via automation using specialised instruments. They are in charge of confirming if the backups are correctly running, rolling out fixes, and reviewing stocks to limit the danger of disastrous events. They additionally responsible of being notified of unforeseeable scenarios like failures of hardwares and backups, database corruption, programming crashes, and virus and spyware attacks, responding immediately to avoid downtime. A restricted in-house IT staff will be unable to react and deal with the issue as immediately, which leads to longer downtime, putting the production in danger.
6. Consultation and Future IT Roadmap Planning
Immeasurable experience working with various customers, businesses and enterprises, and in addition keeping current with the most recent innovations, qualified IT companies will notify businesses on their requirements in their IT departments in the future. This is through assessing the business' development and IT needs, regardless of whether the organization intends to move or grow, or diverge into other markets. Technology is always changing, and it is hard to find out what a business will require later on and how those necessities will convert into profits.
7. Increase in Efficiency
As a result of the advantages listed above, your business will have the capacity to bring down its expenses and concentrate the things they do best. A qualified IT services provider can anticipate, avoid and rapidly react to major problems that could result in a disaster and more extended downtime. Also, you will utilise the most current innovations that makes you more aggressive by increasing your efficiency. With top of the line innovations, you can simplify operations and make them more effective and profitable, and your business will have the capacity to take on more opportunities.