The art world has been one of the biggest beneficiaries of the technological evolution. Technology has become essential to curators and designers alike as they try to exploit the latest developments in the field for the advantage of their visitors and collections. From the smallest organisation making use of a Twitter account to gain followers by sharing essential information to their community to larger firms, such as Kendal Museum in Cumbria, who digitised its entire collection exhibition showcases and introduced a new website to engage a bigger audience. The whole world can now connect with its strong collection of minerals and pressed flowers. It is pretty exciting to witness large museums utilise groundbreaking advancements and innovations that are altering the way the art world uses technology to showcase its collections and reach out to visitors. Such as the Cooper Hewitt Smithsonian National Design Museum in New York which has designed an electronic pen, which let the patrons gather data as they explore the museum. It also allows them to access an exclusive website after their physical visit to see what they have collected, and thus continue the museum journey. With the launching of mobile devices, museums and cultural organisations found opportunities to promote awareness, make their collections more available to the public, and improve the visitor experience. Finding new innovations on how to utilise technology has become a trend in the art sector. It defines how nimble an organisation is and how engaging the exhibitions are. Experts discuss that technology is something that needs to be carefully considered since it has the ability to modify the perception of a museum's overall outlook. Technology can be applied to add in-depth storytelling to the museum and it is vital you look at your audience and think about what the public wants to see.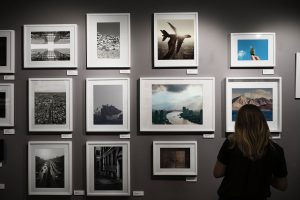 This implies that the new generation who is adept at the latest technology and gadgetry will expect that interactive technology will be integrated museum interpretation. Innovative effects will be applied to presentations and exhibits. As a society, we are using technology on a daily basis it's part of our behaviour now. If museums so not step up and use technology to attract visitors and streamline their experience, people are going to look elsewhere and regard museums as old and outdated. Simply having wifi at the museum is a great step which allows visitors to stay connected and share their photographs and experiences. Bigger establishments like the British Museum utilise more advanced technology such as using audio guides to escalate visitor experience. As
wearable technology
and other smart devices are coming into the market this further adds to the need for convenience and reliance on technology. Museums and artists can definitely begin to take advantage of the growing field of AI and VR to really get ahead in the market. Nevertheless, the latest conference held in Minnesota last month concluded: People first, technology second. The conference also tackled topics such as how to use technology to improve the society, social justice and how museums can use technology to help develop the lives of the people they aim to serve. Technology has altered the way people communicate and connect with each other and it is important that the art sector keeps up, museums are no longer just about sedentary museum display cases but there is an element of interactivity and greater involvement needed. It has been a challenge for museums to integrate technology and relate to their communities. The advent of mobile technology forced the organisations to adopt allowing them to become more available by enhancing their website, developing interpretive apps, digitising their collections and making them obtainable to the public, allowing visitors to take photographs and sharing them online.